Our picks of best places to get a meal in Vilnius!
Breakfast
If you have arrived early in the morning and want to have some breakfast while waiting for check-in to Pogo, there are few spots around where you can get some breakfast or lunch. If you are a coffee person or just want some croissant or a sandwich, just around the corner in Pilies str. there is Crustums bakery and Caffeine, which is like our local Starbucks.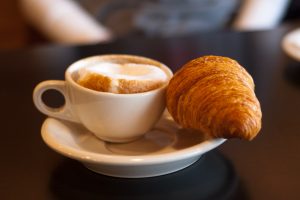 If you prefer something heavier and more filling, you can always check Etno Dvaras and Katpedele, which are at the same Pilies street, just few doors further from the coffee shops. They both have a huge variety of local food, which usually consists of potatoes, meat and some kind of soup. (try the mushroom soup in bread, it's delicious). You are lucky, that you're staying in the very center by the most touristic street on the Vilnius old town. So just get out there to Pilies street and every door is a restaurant. Even the most picky person would find something they like 🙂
Lunch
Apart from those mentioned above, there are plenty of other restaurants around. Most of them have a separate lunch menu between 12pm-3pm (roughly). Just next door there's MIAN, which serves chinese food, like noodles, dumplings and similar. Just tell them you're from Pogo and you will get 10% off from any dish. There also are few vegan restaurants further this street. For more usual for locals lunch menu and a simpler atmosphere, you can visit Klaipedos Senamiestis, where you will get your stomach full for only around 4 eur.
For Pizza – Jurgis ir Drakonas and Uzupio Picerija are the best! And if you want to get a feeling of how every factory worker or a student used to eat 20 years ago, visit the canteen of Vilnius Art Academy. Heavy lunch for just 2.5eur. and an unforgettable experience of Vilnius in the 90's 😉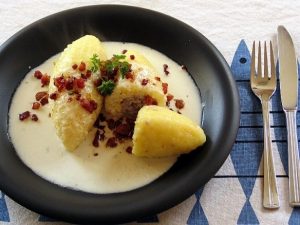 Dinner
No matter if you only want to rest, or if you're planning to go out and have a wild night, a proper dinner is the key to better morning. For local food, we would strongly recomend Berneliu Uzeiga, which is 10min walk away and serves food as good as local grandmothers make. Another one, where you will get great local food and also lots of crafted beers, is the famous Snekutis bar.
Talking about beers – most of you will want to try them. We are quite famous for our beers. Here are few spots, where you can find a variety of local made beverages:
Other bars, pubs and clubs in Nightlife section!