WHAT TO SEE IN VILNIUS?
Vilnius was first mentioned in documents 1323. Although You can track its history even as far as XIII century BC. In the center of the old town there are a lot of churches going back to XV century. Narrow streets, architecture of buildings enfold You with a greatness of the history of Vilnius. We are proud of our history and You can see the connection between old and new.
If taking POGO as a starting point You can start Your acquaintance with Vilnius from the free walking tour organized by professional tour guides it is only 10-15 min walk from the hostel. They start their tour every day at the Town Hall at 10:00 and 12:00 o'clock. It takes about 2 hours. In those 2 hours You will see main places of interests and hear some interesting facts about Lithuania.
Our suggestion afterwards would be to visit the Catholic Cathedral which was built in 1251. Next to the Cathedral there is a Grand Duke's Palace and if You like museums, You can start from this one.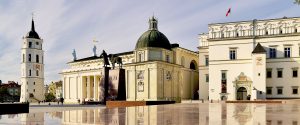 On the right from POGO in 10 min there is Uzupis Republic. It is independent Republic with it is own constitution. You can get Your passports stamped with their stamp and… everything is unofficial 😊 Uzupio Republic is where artist paint, sell their goods, where they have their workshops, exhibit their works. There You will find cafes, hipster people and great atmosphere.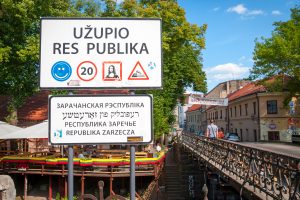 Wondering further down the old town, You will come along the Bastion, a city wall that used to surround and guard Vilnius. Not far from the bus and train station there is a Gates of Dawn. The icon of Saint Marry is there and it is a famous place every year visited by many people from different countries, even by Pope of Rome.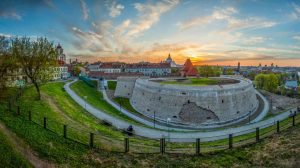 Walking down from the Gates of Dawn on the right hand side there is an Orthodox Church of the Holly Spirit. Inside in the glass coffin rest three monks (martyrs). According to the historical they were killed for their political views in 1346 – 1347. Nevertheless, atmosphere there is magnificent.
If You did not join the free walking tour, on the way back You could visit Vilnius University. It was found in the XVI century, was great not only in Lithuania but as well throughout Middle and East Europe. Many great and famous people studied there. Nowadays it is rated according QS World University Rankings 1,5 proc of the best universities in the world. As we said, we are proud of our country. You shall find this university only 5 min away from POGO. By the way, next to this university there is a Presidential Palace. Yes, You can approach it, take pictures and see no guards there.
Definitely visit on the famous narrow streets called "Literatu". Why? See for Yourselves and tell us what You think.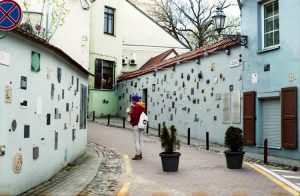 Directions here: